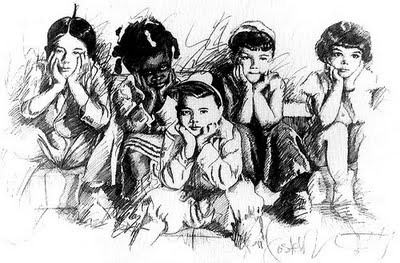 I often think of "The Lil' Rascals" and how they just seemed to roam through life with one another and without a schedule or a camp to keep them busy. There is something about having structured time and then having time to enjoy the "lazy days of summer." Letting a bit of boredom in can pose a challenge as we seem to be programmed to be productive.
As a child my mother never allowed for any of us to be bored. She instead found numerous ways for all seven of us to find our own unique "gifts." Be it through an organized program or simply the family business, we began working or crafting at a young age. I attended art camps and classes, dance classes, ceramic classes. I was able to learn a myriad of mediums and art has always provided me with lots to do to challenge myself.
Summer swimming has ended for my daughter, now she is currently attending the Summer Arts Workshop, offered by the
RiverArts
, Rivertowns Arts Council. It is a wonderful program offering a series of multi-disciplinary workshops for those who have a keen interest in the visual as well as the performing arts.
My sons are attending an boot camp
here
for preparing to take the S.A.T. Test which they seem to be enjoying. On Saturday, they will have a test to see how they perform as well as give indicators to weaknesses as well as strengths.
What are your thoughts, how do you balance your day or your children's day to be one part productive and one part lazy? You have my permission to enjoy a lazy summer day.