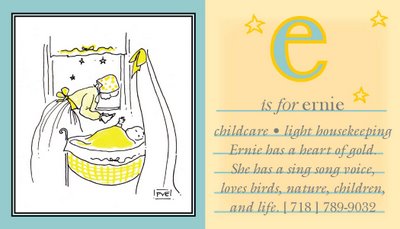 Just look at this sweet little card for Ernie.
Ernie took great care of our sons when they were born up til they were five years old.
Ernie still comes to lend a hand around the house, scrubbing, sparkling, singing, laughing and happy to see the "boys to men" in her life, plus my girl.  She has what I call the "Mary Poppins" touch, transforming tears into laughter, polishing tarnish to shine, and just doing her work with a smile and always good common sense.  She is a fine, honest lady.
How great is this little card for her – to have to drum up business.  She is great with babies and kids of all ages and hey, even adults like me with a kid-at-heart attitude.  I mean I do draw all day and play with colors!
Just look at this sweet and sparkly back for the card for "ernie" – she will be thrilled!
Even if the economy is tough, there will always be babies to care for and houses to keep after.
e- is for excellent and f- is for
faboolosity
!  Heidi you are a living doll to do this for Ernie.
I just know she will have tears when she I show her this!  Thanks again!