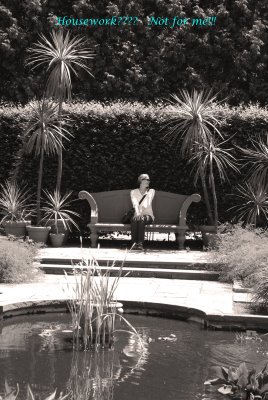 Housework???? Not for me!!
Sitting in the palm of someone's hand, my dear friend Elizabeth Belliveau photographed me at
Wave Hill
and sent this to me.  (She is the famous fine artist, who photographed me at the easel!)  Her site is due to launch any day and I can hardly wait!  Just for fun, she added in the robin's egg blue, "No Housework?Not for me!  A day for no housework and a day to treat oneself to a seat in the midst of lovely palms, and water lilies, now if only I could get someone to peel me a grape, and palm me with a palm frond!  Take time to spoil yourself and laugh this weekend!  
While on the grounds of Wave Hill, Elizabeth picked up half of a robin's egg blue and said, "True perfection, found in nature."