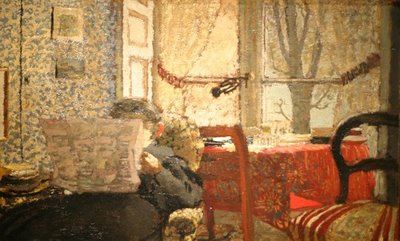 "The Newspaper" painting by Edouard Vuillard
Please forgive me while I write a little bit of news.  Yesterday I was hit with some news, horrible news of my sister-in-law's boyfriend, who died of a heart attack, after a tread-mill work-out while he was away on business.  A handsome young man ( only 52) who adored my sister-in-law.  They had been a "couple" for the last six years and I always knew they cared for one another.  Some obstacles along the way, but both had an open heart for one another.  He sent her flowers on Sunday – signed from "me."  How sweet.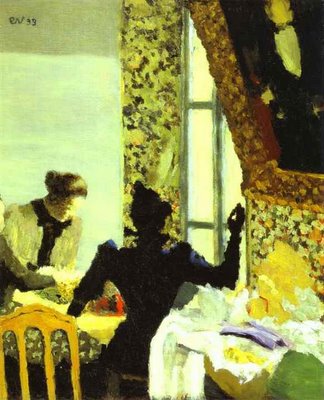 Interior – Painting by Edouard Vuillard
Later, that same day, I helped my neighbor out with laundry when her washing machine would not spin.  I proceeded to be the super-laundress as well as short-order chef for her little ones with a mac n cheese, and some green beans.  My neighbor has three all under the age of four (and just went back to work as a fourth grade teacher.)  Yes – people, three children all under the age of four.  Doing for others in the midst of tragedy surely left me feeling pretty connected to the man upstairs.  My Dad has always told me to "do for others, just showing up for church is not gonna cut it."  (Right he is)  Thanks Dad.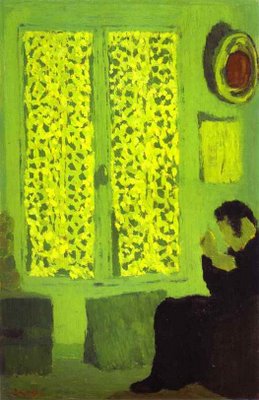 "Green Interior" – Painting by Edouard Vuillard
While the laundry was still drying, I dashed off to a wake for a 93 year old gentleman who was the father of a neighbor and friend and it was amazing to see how many people were out for a popular guy and a family who are amazing.  When I moved to my home, they brought an apple pie (home-made) for our family.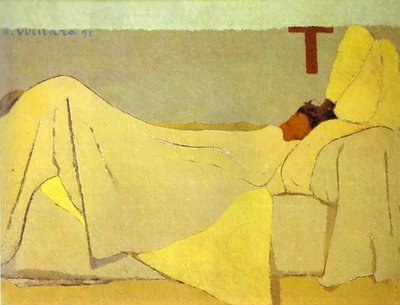 "
Au lit" In Bed – Eduoard Villard Painting
I remember it is the little things, that make the news.  
I am looking forward to another day and a bit of rest.
Sleep always helps one to prepare for more news, the good and the bad.
How about you, any news?
(
All paintings by Edouard Vuillard – my latest obsession)