fab friday – "best face forward"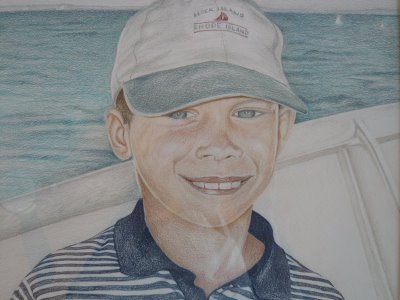 Today is fab friday (blame it all on Seleta) and it is all "about face" – I did this portrait several years ago of my son.  Fond memories of the ferry ride to Block Island and always coming home with a new cap or a t-shirt.  Idyllic days spent riding bikes, sleeping late, walks on the beach, eating clam chowder, lobster, Payne's Dock doughnuts, flying kites, skipping rocks, meeting friends, and just slowing down our pace and enjoying a simple life.  
There is something special about the ferry – the lull of the engine, the waves, and the salty air.
It is a treat for all senses.  In this portrait, I think I captured the happiness of my son and how much it meant  – to him to go to Block Island.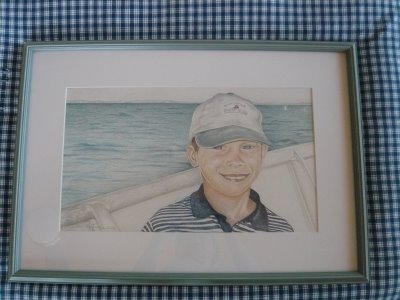 I would love to capture a face for you in a portrait.  Simply leave me a comment and I will randomly select (through random number selector) a winner.  I think part of why I love capturing  a face is the emotion.  The winner will be contacted and asked to e-mail me a favorite photo of their favorite face.  There is also something very soothing about working in prismacolor pencils.   Although this style is more realistic, I enjoy a variety of styles along with many faces. Do you have a favorite (one) face that you would like for me to capture in a portrait? 
(Comments entered by Sunday, April 19th til mid-night -Eastern Standard Time.)
Winner announced Monday here!)