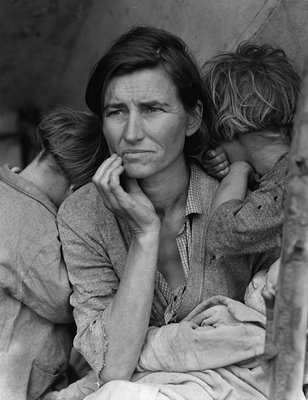 Photo "Migrant Mother" – photographer Dorothea Lange – Wikepedia
"Lange's words" 

I

 

saw

 and approached the hungry and desperate mother, as if drawn by a magnet. I do not remember how I explained my presence or my camera to her, but I do remember she asked me no questions. I made five exposures, working closer and closer from the same direction. I did not ask her name or her history. She told me her 

age

, that she was thirty-two. She said that they had been living on frozen vegetables from the surrounding fields, and birds that the 

children

 killed. 

She

 had just sold the tires from her car to buy food. There she sat in that lean-to tent with 

her

 children huddled around her, and seemed to know that my pictures might help her, and so she helped me. There was a sort of equality about 

it

.

Today is
April Food Day
and many bloggers are spreading the news to fight hunger by donating a dollar, which can buy seven meals.  As one of "seven" children and a family who worked to build a food business, one of my fondest memories was to take food that we could not sell because it was too ripe or spotty, to the local shelters and to help feed the hungry.  My Mother knew how to stretch a dollar to feed our family, and we were fortunate to have enough food, and to share food, but many do not and are going hungry.  My Father was one of nine and his Mother was another resourceful woman who knew how to make a meal for many with little. 
She worked up to age 93 stocking tomatoes and corn in the market.
Click here
and help, a dollar can make a difference.  Thank you to Easy and Elegant and Pigtown Design for rallying the blogging community to make a difference.  The time is now for equality.