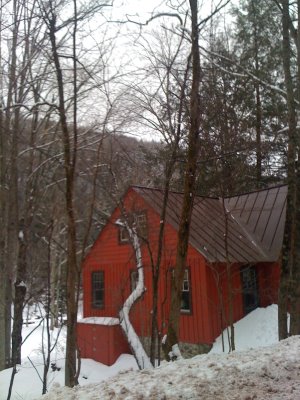 Little red house sitting by the road.  I want to wander in and see what is inside.  I picture piping hot bowls of porridge.  Something simmering on the stove for a hearty appetite of a lumber-jack.
A globe to spin, some books to read, games to delight and a simple life.  
After an evening walk it is time to retire to a comfy bed, with wool plaid blankets bound in tattered satin binding.  The dog jumps on the edge of the bed for added warmth. The book suddenly drops to the floor.  
Night is falling and snow is covering the ground in hopes to reveal the glory of springtime.  Only a few more weeks until the little red house sits in a bed of green, designed by nature.