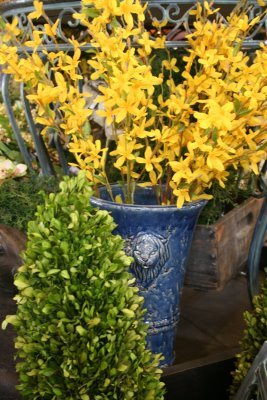 When my daughter was little, and I would fetch her from pre-school, she would proudly run to me with her latest creation and tell me all about it.  One of the projects that she made was to take a branch and wad yellow bits of tissue and glue them on to learn about this spring plant.  I know I saved it in a big box. 
She told me it was called "For Cynthia" – which I loved how she made perfect sense of what she heard from her teacher telling her that is was "Forsythia."  Our walk home would consist of "forcynthia" spottings and the awakening of spring.  It is the times that we allow ourself to stop or to see things from another's perspective that our eyes are suddenly open to see.
To those of you in the thick of raising wee one's or in the hopes of imagining spring, now is the time to look around, observe, contemplate all the glory in store.  The forsythia is not yet in bloom (here) and I thank the kind soul for allowing me to borrow this photo of "faux forsythia."  I am somewhat of a purist and enjoy the real thing, but in desperate measures I can bring in some "faux" to garner spring and little memories.