One of my most loved and cherished cookbooks is "The Eating in Bed Cookbook" – by Barbara Ninde Byfield, published back in 1962.   A dear friend who knows me all too well, gave this wonderful book to me.  She told me that the drawings reminded her of me and the witty sense of humor.  There are two types of people, those that "love eating in bed"- and those who simply "loathe it."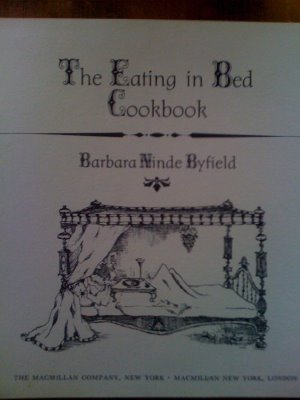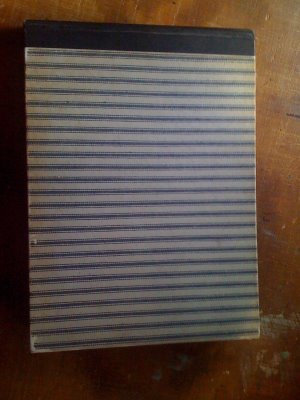 The cover is a simple blue and white ticking stripe, and the inside is full of incredibly witty and endearing recipes with endless possibilities for eating in bed or other unusual spots.  Have you ever given any thought to "Eating in the bathtub" – being served "Turkish Delight" in a Turkish bath?  It is after all such a heavenly sticky confection, surely a bath would complement this and avoid wasting any towels.  Why one could simply enjoy getting sweet and squeaky clean right in the tub!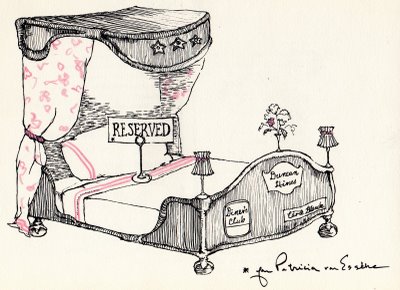 Witty, clever sleep inducing recipes with visions of remnants left to be found in bed.  Normally sticking to a regime and a hard and fast rule for eating at a certain hour, this cookbook advises wisely to the fact that one can eat in bed at any hour.  There are a number or things that cannot be eaten in bed:  Baked Alaska being one, based on the problem of getting this delicacy to you at a proper temperature without sacrificing the luxury and unhurried ease which distinguishes successful Eating in Bed from even the finest dining out.  Perhaps one day restaurateurs should realize this unique service and accommodate even the most finicky of eaters with mouth-watering delights delivered straight to the comfort of one's bed.  Reservations for the corner bed with the canopy, please.  Do you enjoy cooking and eating in bed?