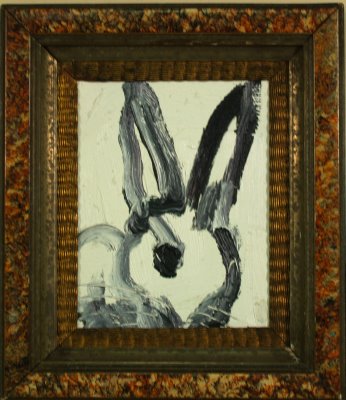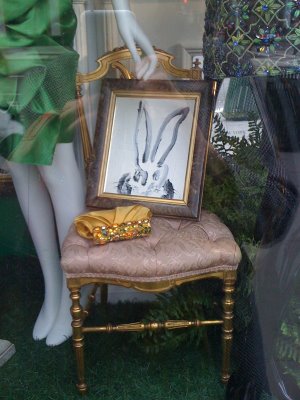 "Rabbit" – by Hunt Slonem, on display at Bergdorf Goodman -New York
Yesterday was a day full of "play"- in New York City and I was positively crazy for the "silly wabbits" in the windows at the posh Fifth Avenue store, Bergdorf Goodman.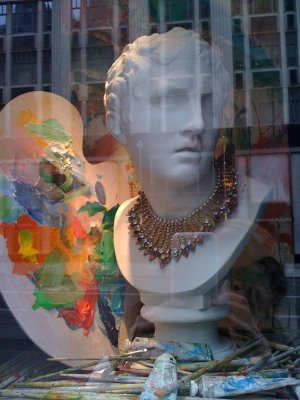 The Artwork of
Hunt Slonem
was on display along with a witty collection of "scwewy" fashions for which I have a wild hair for, just look at that dazzling necklace above along with the cleverly arranged palette, brushes and tubes of paint.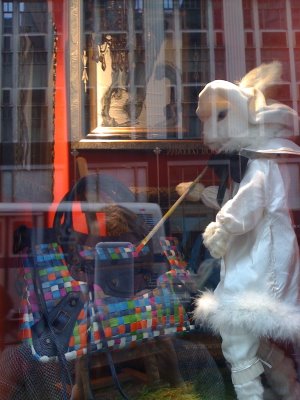 You do remember "Elmer Fudd" – and his penchant for "silly wabbits" likes Bugs Bunny.
This rabbit has his brush fully loaded, along with this colorful "Balenciaga" bag.  I also spotted these bags at Barneys on display.  They are witty, full of whimsy and have a casual sophisticated yet -fun flair.  I think we all could use a little color, as we hope for Spring.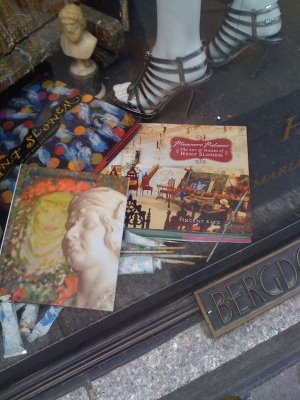 More fuel to my desire to design and create an artful life is on display in the above window.  I think it was refreshing to see things casually composed with a carefree spirit in a world 
obsessed with restoring order.  I'd like to think of it as magical and lucky, akin to pulling a rabbit out of a hat or that of a "fatal attraction."  I know, I just could not resist wanting to know more about this artist, Hunt Slonem and of course the to die for fashions.