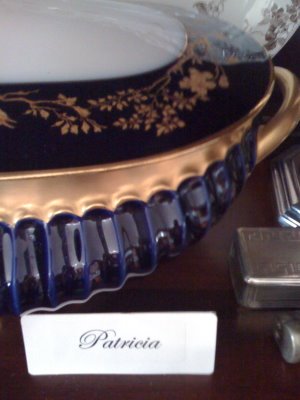 A family heirloom, a Haviland casserole
The above porcelain dish was produced by Haviland & Co. – the china company which was founded by an American who visited Limoge, France in the 1800's to oversee the production of china.   This casserole dish was a gift from my mother along with ten exquisite serving dishes.
I adore the deep blue and gold, the scallop pattern and the delicate branches painted upon the lid.  When entertaining, nothing is easier than serving one casserole, a mixed green salad, some fresh warm rolls and a cheese platter.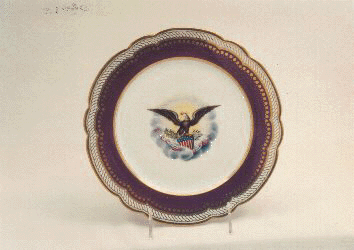 President Lincoln's china pattern
Mr.Haviland stayed in France and founded
Haviland-Limoges
, a re-knowned porcelain manufacturer.  The above plate was produced for President Lincoln.   Many are wondering what pattern will the Obama's select for the presidential china.   Has the eagle landed?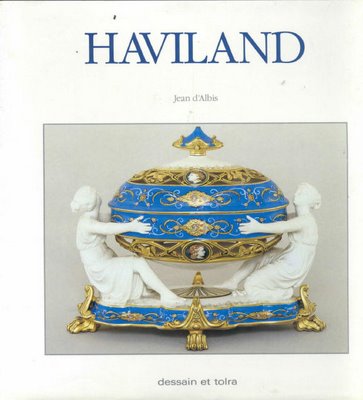 An exquisite Haviland piece.  Go to the site here.
Many heirlooms in my Mother's home were from Great Aunt Louise.  She had amassed quite the collection of antiques along with 3 husbands but never any children.  Here she is (below) standing next to my Uncle Bob and she is wearing her signature scalloped front open cardigan which she sewed.  She loved  "Stewarts Dry Goods" a shop where she would go for her fabrics. She had a passion for textiles, notions, antiques, fruit cakes and sherry.  I have the fondest memories of spending time with her, the sweet smell of english lavender soap and her porcelain skin. Words seemed to slip off her tongue with a lady-like high pitch, finished with a "You know what I mean" – I truly think that was her way of getting the last word in and her way of wanting to be certain that she was understood.  She came for special dinners, like birthdays and would always bring our favorite "Ermin's Ice Cream."   The ice cream had a distinct flavor with small bits of butter that would linger.  It was rich and fine.
"Great Aunt-Weezie" with "Uncle Bob" – "Porcelain People"
Today, I ponder the fineries. Do you have "porcelain people" in your life that represent a time and place which made an influence over you?  So much history, all in a dish.