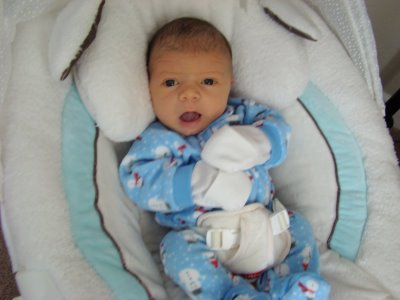 my youngest client "Harrison" bound and born to thrill
There is nothing more thrilling than that of having a baby.  I remember when I moved to New York and was deeply ensconced in the career path and had what I call my baby blinders on. My father-in-law would peruse the situation, and request that his stature be elevated to that of Grandfather, and soon.  For the longest time I know it was a love-hate relationship as I would walk right by babies to avoid the issue and then stalk aisles of upscale nurseries on Madison Avenue.   Then I began to be showered with baby shower invites.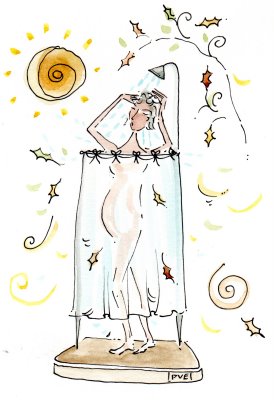 pve design artwork for the baby shower, (for Harrison)
There was something about the games, and all the tiny trappings that would fill a New York City apartment to the rafters that scared me as well as thrilled me.  The stroller tucked in the foyer, the moses basket next to the bed, the smell of baby powder and those tiny little toes to adorn with wee little socks and "onesies" that swiftly rocked me in to deciding that a baby was bound to be a "born to thrill."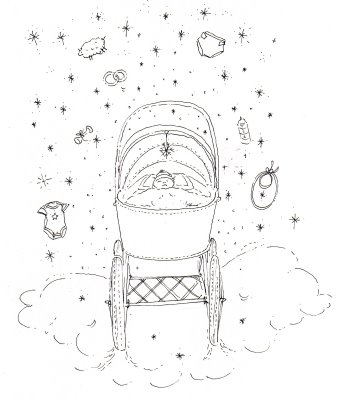 A pram for the ride of life, first wheels for a blissful ride
(
Original 
pve design artwork, micron pen, before color wash)
It seems like yesterday when I was showered with gifts galore for not one but "two" as I was doubly blessed with twins.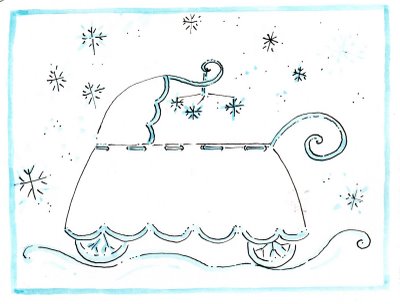 (pve design artwork, a pram for baby to come home to)
Bringing home my babies was a thrill, the sleepless nights, the eternal drivel, the mounds of laundry and the fact that I adored the little man who delivered the fresh stack of cloth diapers and transported the soiled ones far away.  Yes, I was convinced that cloth diapers would be the best for my little bottoms of my heart and that only disposable diapers would be reserved for outings.  I think I was ahead of my time on being "green."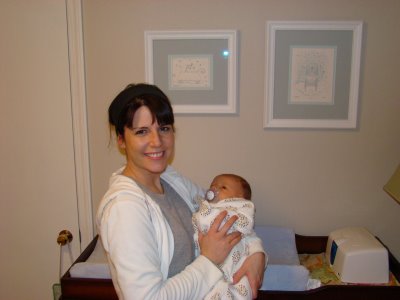 "Babymother" of Harrison, proudly standing in front of original pve design artwork
I just love the white frames, don't you?
Now those same little boys that were born to thrill, shall soon be giving me a new kind of thrill which is driving as this month they celebrate their 16th birthday.  When I asked if they wanted a party, they said, "C'mon Mom, you know, we are "thrill seekers"-what we want, are our own wheels.   This Mom thinks that remote control cars will be just the sort of ride to thrill me up.
Note-  Thanks to Emily for graciously allowing me to share the above art and photos of babymother Bonnie and baby Harrison.