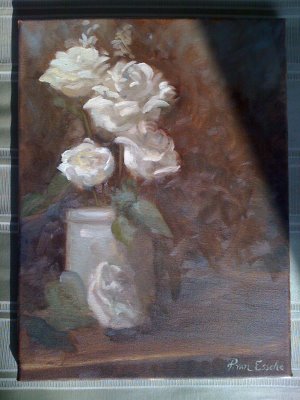 "la vie en rose" painted by Patricia van Essche
oil painting – private collection – bequeathed to a beloved.

Feb"ru"ary First, it is today. The shortest month of the year with a mere 28 days, but never to short to paint flowers or to bring a posy indoors to enjoy. The above oil was painted in the month of February, and reminds me to look forward to the light of this month along with Ground hog's day and Valentine's day. Suddenly I find myself with a mere 28 days to conquer this list of 28 random things while I raise my family, be a Mom, work as an Artist, blogger, friend, and wife. That's my life, and here's my long list for 28 days in random order.
Use french words in sentences, (like Audrey Hepburn)
Wear a bit of red, or pink lipstick.
Fresh Flowers on my table.
Knit.
Bake heart shaped cookies.
Sew frogs like I made in high school.
Walk my dog, Bentley. (with red leash)
Make chocolate fondue.
Make chocolate covered strawberries.
Finish my taxes.
Re-upholster chair (that dog loved, a little too much)
Peruse my local thrift shop. (collect consignment check!)
Plan 5 easy piece Spring Wardrobe.
Read "In the Red" novel by Mark Tavener.
Save money, hone in on frugal tactics.
Send home-made valentines
Host friday the 13th good luck lunch.
Eat oysters at The Oyster Bar.
Go to a Museum in the city with a friend.
Wear velvet.
Bake red velvet cupcakes.
Attend jump rope for heart at daughter's school
for American heart Association.
Ski pretty.
Eat oatmeal for breakfast.
Say "it's good for you" daily to my family.
Paint a small step stool for a wee one.
Decoupage a box.
Finalize renovation plans for our home.
Hope that I inspired you to create a list of 28 things to do in 28 days for a more artful life!
Note that most of these things do not cost little or no money, well that is except for the renovation but as a good friend said, "It is an investment."
What's one thing on your list for February?