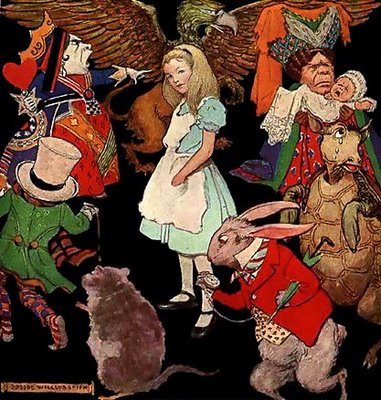 Alice in Wonderland and her circle
Last year I  considered joining the blogging community and then suddenly like Alice in Wonderland, I fell down the rabbit hole and the rest is history.  Comments and questions in regard to the blogging world are posed daily and I am honored to answer or give advice to help one join the blogosphere or in regard to creating art.
The connections that I have made with many is like that of having my own little circle.  A kinship, a connection, has helped me to focus and to build a body of work based on daily life, people, pets, places and somehow reflects that of what make my day full.  
I welcome you, to join, to begin a blog  ~ for you will find an incredibly supportive community.
You do not need to post every day.  Your voice will find the way and the comments that you will receive will shape your world and you will feel to power of influence that will bring focus and clarity to your day.  A positive influence in shaping me and I thank each of you.  
Happy First of January 2009!