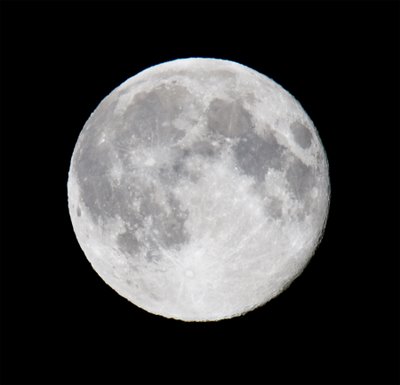 I was "over the moon" to meet the talented and dreamy 
Mrs.Blandings
 along with the beautiful Mademoiselle
Eerdmans
at the Winter Antiques Show in New York City.  
Communicating via cyber-space has been a trip, but meeting in person is truly the best, especially while perusing rare collections at the Winter Antiques Show.  Thanks to Emily E. Eerdmans, she was a fabulous hostess and managed to break away from her post at 
Hyde Park Antiques
.  We each spoke of the world of blogging and the amazing community of  talent, and extraordinary relationships which take-off via blogging.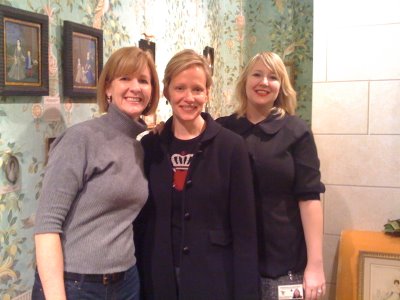 Left to right, (Mrs.Blandings, pve design, Emily E. Eerdmans) standing in one of my "favorite" rooms at
Elle Shushan
 which was wallpapered in a delicate floral stripe from
Brunschwig
.
Delicate paper birds perched high along the walls, the limestone paper grounded all these ever so delicate portraits.  Magnifying glasses were provided for an even closer look, they were hung on strands from the wall which I thought was clever and thoughtful.  If you look closely – you will see the birds near the top of the photos.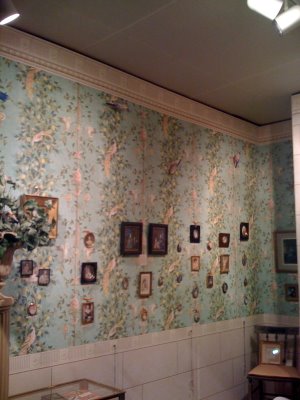 Interior of the room, Ella Shushan, portrait miniatures
Do you see those devilish magnifying glasses hung below, sweet touch, especially for me.  
I love details, the birds and the humor of this space.  The collection of miniature portraits are incredible.  You can learn more
here
. The depth and richness of color was exquisite in person so please forgive my photos as they truly do not do this justice.
Treat yourself to attend the Winter Antiques Show in New York, even in uncertain times, we can still educate our eye and appreciate antiques for a good cause.  As they say before take-off, in the event of an emergency landing, you must administer the oxygen to yourself before you give it to others.  Be sure to administer a little oxygen to yourself, first, create an over the moon life and share it with others.
Interior shot of the room, note the birds perched upon the paper