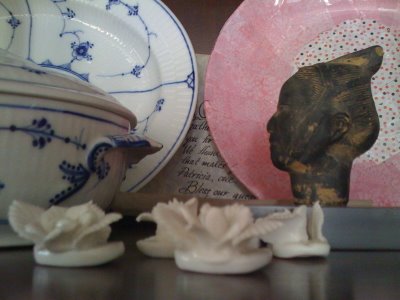 My cabinet of collectibles
My cabinet is full of collectibles. Royal Copenhagen China purchased in the city at an Antique shop for a song. A miniature bust, a gift from an Aunt who traveled the world and shared her stories and artifacts. Treasured porcelain place cards to mark one's place of honor at my table on special occasions. The pretty pink decoupage plate, a hand-made gift from my daughter which serves cookies or chocolate in style. Life has swiftly carried us away to a time where these items remain in a cabinet, under lock and key. Perhaps an inaugural dinner is just what I need to prepare to set my table with my fellow high ranking constituents. Will you be celebrating history in a special way by creating a special table or planning a memorable menu?
The sheet of calligraphy tucked behind is the "grace" that was recited on my wedding day, a special occasion. A day full of creating a life of dreams.
Let each of us give grace to the cabinet in charge and hope for the coming years to instill a life of honor, gratitude and dignity to our country.