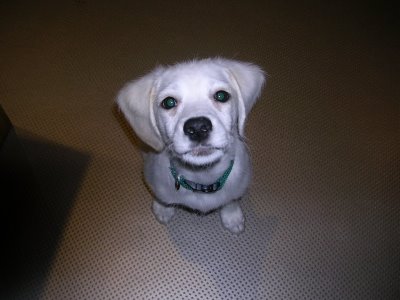 "treat and or walk" please master pve
This post marks my one year anniversary.  If I were to calculate it in "blog years" as we do our dogs years, I just wonder how old I might really be.  Only one year, and nearly 400 posts.  I feel like it has been 1,ooo years since I entered this domain and I feel so much wiser.   Each and every one of your comments are like "treats" to me.  
My dog, "Bentley" has been by my side, cheering me on with my work, and daily tasks,  he is always here for me and listens to my every word.  I love when I am in the blog world, he will come over, put his sweet head on my leg, which means, "enough" already.  Well, then we have the "blogging police, my 3 and the warden."  Only some of you will know what I mean.  I do love the comments, "Mom, are you blogging again?" This blogging thing can be a full time career not to mention my real job of artiste, housewife and ceo of my domain.  
How shall I celebrate my blog birthday, candles on a cup-cake, a fresh cup of coffee in really good china, a glass of bubbly or a walk with my faithful and loyal companion.  The good part is that each of you can sing to me and come on the walk with us or even toast to me.  Here's to a great year here.  I hope that when you visit, it is like feeling the love from a pet, unconditional and loyal.  One year deserves a reward, or some sort of treat or comment!  "Atta blogger!" Your comments make my day add up to a beautiful blog year.
Thank-you, I am forever grateful and blessed with each and every one of you.  Such a good and faithful group.