bibliophile-

one who loves books.

When asked to illustrate a small little work for a blogger with an avid case of "bibliophilia", I immediately visualized a charming shop which one would ride their bike to, and spend hours perusing the shelves and the stacks of artful companions not only for content but for layout.
I love losing myself in old fashioned bookstores, the ones where the shopkeeper greets you by your first name and fetches the latest hard to find vintage out- of -print publication that you have been on the prowl for.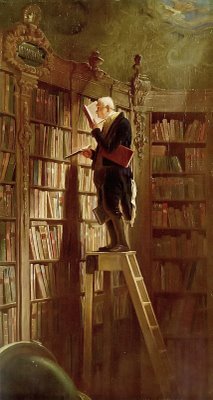 "The Bookworm", painted by Carl Spitzweg, Wikipedia
How many of you have a little shop on your blog and need a store-front? I think I will stay inside and peruse some on-line shoppes, after all, bloggers really do have all the best books and chic finds. Feeling bookish today?