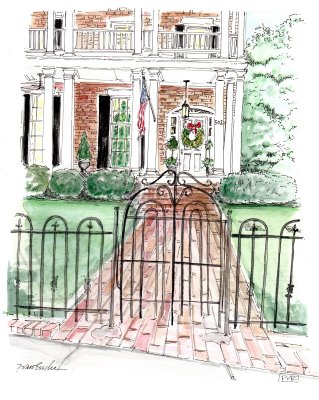 Home illustrated for client by pve design for holiday greeting card
We all know the type of place that is "gated" and causes one to stop and stare.  A wrought iron gate has always held curb appeal for me.  There is a certain charm of the barrier without being uninviting.  This gate says, "welcome" –  come in for some holiday cheer, a cup of eggnog perhaps.  "Wrought-up" – and stressed out with all the holiday wrapping and doing, please push open that gate, ease on down the brick path to a gentler and kinder time. 
A time to make merry – leave your cares at the gate or better yet, leave a comment.