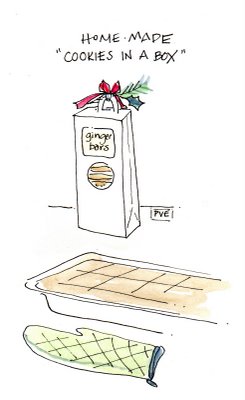 Part therapy for me during the holidays is to bake cookies,  it is an easy thing to do from start to finish and is what I like to call, an instant sort of gratification.  Some things I do just take lots of patience but baking a bar cookie is easy.  Give this recipe a try, your home will smell so good too!
ginger chocolate-chip bars  (recipe from real simple december 2008)
1 cup butter
1 1/4 light brown sugar
1 1/4 cups granulated sugar
4 large eggs
1 teaspoon vanilla
2 teaspoons ginger
1/2 teaspoon cinnamon
1/4 teaspoon ground cloves
1 teaspoon baking soda
1/2 teaspoon kosher salt
2 1/4 cups flour
12 ounces semisweet chocolate chips
Mix butter and sugars til fluffy, add eggs, vanilla, gradually add in flour, mix and fold in the chips.  Spread batter in a  9 x 13 pan lined with parchment paper – overhang along the edges – which helps for an easy clean up.  
Bake 40 to 50 minutes in a 350 F oven.
I learned to cut them into squares with  a plastic knife while hot, which really is easy!  I found boxes at the container store and tie with a ribbon and greenery!
Cookies during the holidays make everything sweeter!