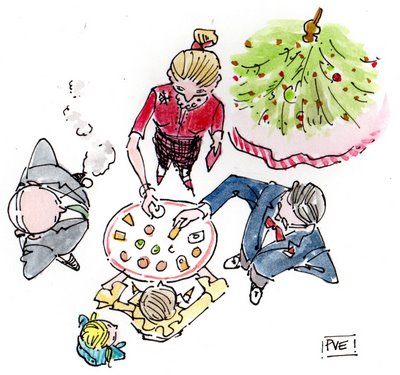 illustration by pve design, "the holiday hors d'oeuvres platter"
Ever since I was a little child, "hors d'oeuvres" have always been one of my favorite things about a party.  Perhaps I just like the way the word itself sounds, very international or perhaps because it sounds very grown up. During the holidays, my Mom and Dad would host an at home Holiday party which usually consisted of my Aunts and Uncles.  I remember my Mom making lots of goodies to pass around on a large platter saying "hors d'oeuvres" in her lovely Kentucky accent.
I would be instructed to get ready for "beddie-bye", I would usually have to change into my pajamas with padded footies and then come and say goodnight.  My Uncle Don loved teasing me.  He would bring these animal shaped erasers with the jiggly eyes and then slip them into my pajamas and I would run and laugh.  I would sneak an hors d'oeuvre and a good night kiss before I would go to bed.  I hated to have to go to bed, knowing that everyone was still there having hors d'oeuvres and laughing.   Do you have any funny childhood memories of the holidays that make you laugh or perhaps make you hungry?