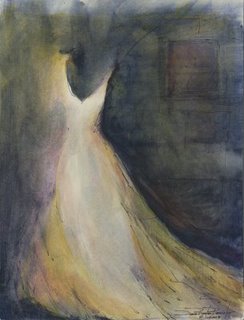 You know the one, the dress that brings back all the memories of the day when you heard those words, "for better or worse."  Well, a new painting like the above is being "
given away
" by this talented
artist.
  Not only can Diane Bronstein wield a brush, but she has an amazing photo safari class that she teaches as well as several blogs (Inspiration by Design) that she keeps.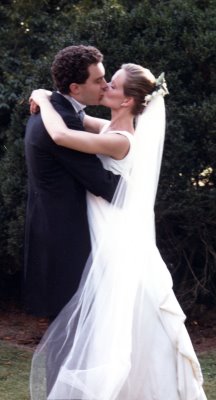 Without a doubt, my wedding dress has to be my favorite dress.   My very own
design
, created from a heavy double face silk which I literally could have worn it inside out sewn by one of the most amazing seamstresses who took pride in her work.  Inside around my waist, I wore a nude grosgrain ribbon from which to bustle the back and cleverly attach to the ribbon.  I felt very elegant, not fussy and I would wear it again today as well as marry the same man.  Memories of a dress, from that day forward for better or worse.   The best memory is that it also cost very little to make.  Fashion cents comes in hand every now and again.
Some other dresses that seem to be calling my name are from the Bottega Veneta Collection.
Chic Sheath dresses for day to dinner.  Post the above painting and tout about your favorite dress today.