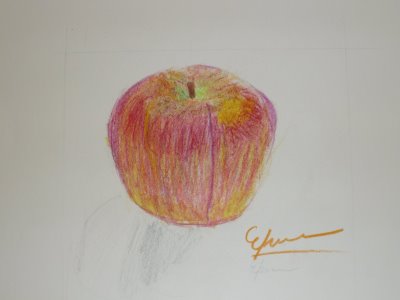 an apple comes to life, colored pencil, prismacolor
Today, I teach an after school classic drawing – art class to a dozen children.  I enjoy guiding them, listening to them and encouraging them to look and to draw.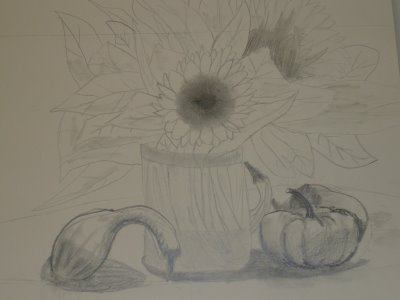 Pencil, a student's still life, a fall gourd, some sunflowers, a small pumpkin.
To teach art is like sharing a secret, or giving someone glasses to help them see.  My class gives me the opportunity to stand back, to guide, to listen and to observe budding artists.  Amazed at with only a pencil and paper what one can do, to teach art.  Take an art class and learn to look, to listen and to do.  Surprise yourself with what you see and what you are able to draw.
orange soda bottle – a student's work of art
If you are an artist, teach or volunteer to teach a student or a class and be inspired to encourage others to create.  As a teacher, I feel like a Momma bird, flying to the class, bringing worms for each of the little birds, hungry to learn, eager to fly and "draw."