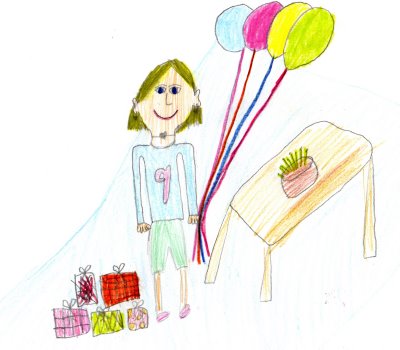 Today my youngest child is nine and very fine.  Just last night at dinner, my then eight year old, said, "Only 4 more hours til I am nine – but I wish I were ten!"  I being the mother who must look for the good in all, yes, but "Nine is fine and did you know that the chinese love the number 9, for it is powerful and very lucky!"   This morning – she drew this sweet drawing for me and we are planning to go have a special lunch out with her big brothers and this evening are the Swim Team Awards for a great summer season!  This is her third summer on the swim team and making it to the Westchester County Finals!  
We also have a concert in our local park which are always fun.  It is the type of place where everybody knows your name.  (I know the lead singer and am in hopes he will sing a special song!)  Life at nine is very fine.  As her swim coach says, "I mean really, can it be any better than this?"  
Happy Birthday number three to being nine!