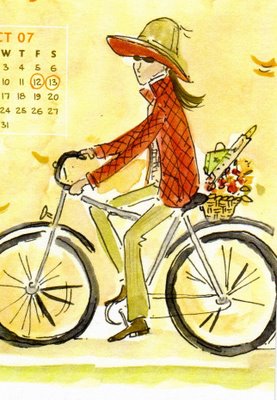 illustration for J.McLaughlin -Fall 07 Mailer "Mark your calendar"
Growing up one of seven, one of my favorite things in the world was riding our bikes or as we would like to say "tearing up the neighborhood."  Kentucky for the most part is flat compared to where I live now so it was made for riding horses and bikes.  A nice flat terrain with peaks and valleys not hills and dales like here.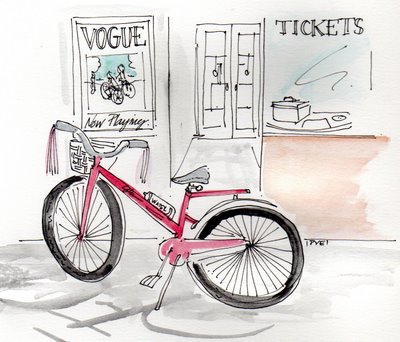 illustration of bike in front of the Vogue Theater
One of my memories was riding to "Roppels" market for a candy bar, or riding to the "Vogue" theatre in St. Matthews to see what was showing.  At around 7 years young, I asked my Mom for 10 cents and proceeded to put on my blue flowered parka and rode to Roppels.
Coming back, crossing Lexington Road (the busiest street) then coming to the "triangle" and getting into the "waving of, no, you go, back and forth"  I finally went and was hit by a car.  The man drove me home and after he left, I took off my parka and had to go to the hospital for 13 stitches in my head.  My brothers say they are convinced that was the beginning of my bike ride catastrophes.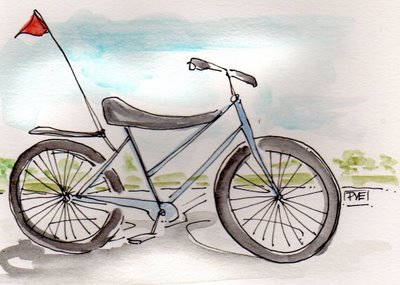 illustration of the banana bike
Then in 3rd grade, I had a crush on "Boland"  (last name with-held to protect the innocent.) Boland had a "Banana" bike and I wanted in the worst way to ride his bike.  So one day he kindly let me and we all were "tearing up the neighborhood" and I did the "stand-up on the pedal" thing and came crashing down on my you know what.  (My flower!)  Ouch.  Went home and back in those days, the Dr. came to my house.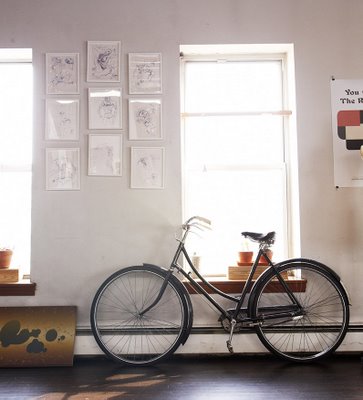 from the multi-tasker, bike of erin wasson, photo from the selby 
Many bike accidents for me, however, I still get back on and ride.  I guess we all have our own scars to show.  How many of you have bikes and where do you keep them?  This bike is a city bike, brought inside, like a piece of furniture.  May each of you have an easy weekend, one of bike rides and warm memories.