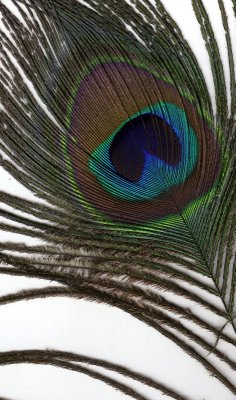 said found "plume" ( one of 2)
Just the other day, my daughter came running to me as we were on our way from the parking lot to our pool club, "Mommy, look what I found!"  Lo and behold, a lovely plume from a peacock. I had to think, I have never seen a peacock around here.  Like I have said before, my life is dedicated to create and to inspire an artful life and perhaps there is a larger, grander plan for me, sort of like that story, "chicken little the sky is falling."  This time it is "peacock feathers!"
Charles d"Orbigney 1807 – Wikepedia
( I love the pencil back-ground which pops the peacock)
Whenever I see a peacock, I cannot be help to think how the feathers they drag behind look like that of a train on a haute-couture dress or that of a wedding dress. If you have ever worn a dress with a train, there is a certain elegance and a weight that controls your movement to a regal promenade, similar to that of a peacock train of feathers. It feels like that of a custom weighted drape that spills on the floor, sweeping up puddles. What a gorgeous creature with a dressmaker train, designed by nature.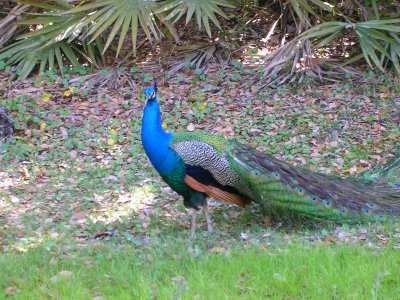 Mr. Peacock posing for the camera while we in Florida
Look at this stunning peacock, how happy was I when he posed for the photo when we were in Florida a few years ago. I must admit that peacock blue is electric. For Fall I am looking for yarn to knit something for my neck, a scarf, or perhaps a long necked sweater in some brilliant shade of  "peacock blue."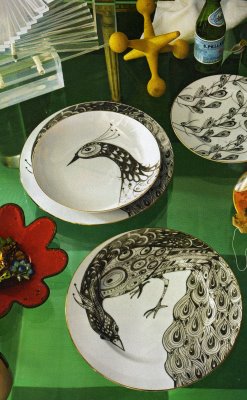 I would wear it while having a cup of tea, and eating apricots and fresh figs on this dinnerware found in the Anthropology catalogue. For only twenty dollars, I can have a dinner plate or a bowl for $16 for my morning cereal which would certainly make for an elegant start to my day.
Like I have said, Inspiration comes in many forms and I hope that you take time to look for the clues which are often found, stepped upon or fall from the sky.