feu d'artifice (fireworks)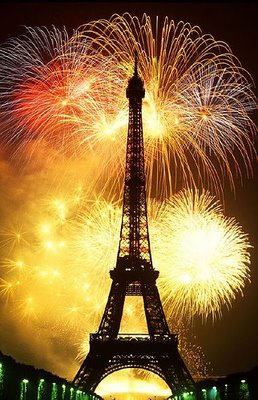 Leaving Paris today on the Fourth of July. I thought this photo would be a wonderful one to post showing the Eiffel Tower being showered in fireworks, like diamonds in the sky! The city is already beginning to prepare for the Bastille Day.
We were fortunate to have a picnic sitting near the Eiffel Tower which was amazing and it stays light til past Ten at night. Everyone is out enjoying the city of lights! At night it is lit up with twinkling lights and then is lit up "bleu" which is magnifique!
Wishing you a wonderful holiday where ever you are! Thank-you again to my incredible guest blogger, Architect Design! Merci!