Dutch treat in America translates to paying one's own way.
However in Holland, the translation is seen through the work of artist
Gerdine on the right with one of her paintings and her daughter Fleur on her left
Prepare yourself for a real Dutch treat. Please allow me to introduce you to a talented and spirited Dutch Artist, Gerdine Duijsens. Gerdine was introduced to me via a dutch cousin Babette Raymakers, living in Brussels. As an artist, people always love to connect artists and networking is good thing, especially when most artists tend to work alone. I am always flattered to connect and to be inspired. As they say, "flattery will get you everywhere!"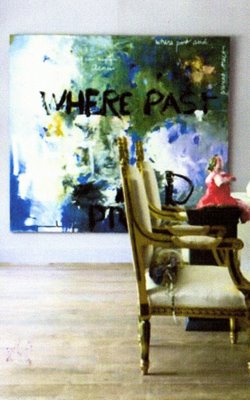 Gerdine's abstract work, hung in a traditional interior adds spirit and freedom
Gerdine began her love for art by drawing at an early age and later attended the Academy of Art in Utrecht. She is a mother of 3 gorgeous daughters. She and her (late) husband managed Veterinarian Practice of Horses and Cows. He past away last year. He was her most supportive person and encouraged her to attend the Art Academy in Belgium when her daughters were in high school. I am impressed as she managed to do this part time.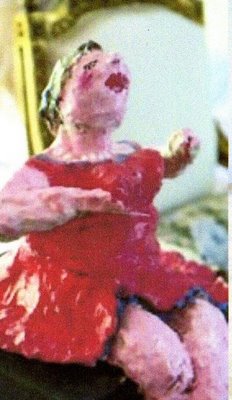 A "stone" lady who clearly enjoys life in red and pink
Inspiration came through the beauty and movement of owning horses that inspired her to paint them in an abstract way. (see her site to view the horses!) Gerdine is also in touch with the people and paints them in a way that shows them larger than life in order to show life above the ridiculous often in arrogant settings such as in a formal social setting of a cocktail party or a concert. Her favorite colors are reds and pinks.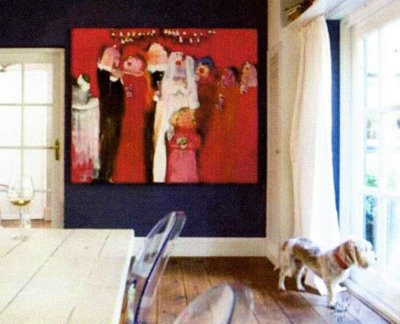 Painting of a Royal Wedding, in Gerdine's favorite red and pink colors
photo of Gerdine's blue kitchen with lovely copper pots.
I can imagine this blue kitchen to be enjoyed by many, just as many enjoy her artwork. Please take a moment to stop by and visit Gerdine, she is after all a real Dutch treat. Please tell her it is on pve design! I hope to make it to Holland and meet in person and enjoy a cup of tea or coffee and see her artwork.
It would be my treat!
Please contact Gerdine if you are interested in purchasing her work via her
website
.