creating a home illustration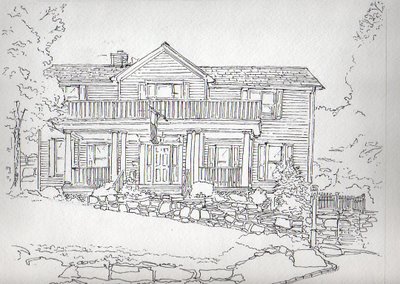 Pencil is used to "rough in" the shape and size on the paper or the image and then a micron archival ink pen is used to fill in the details. The devil is in the details. It takes time but a little patience here is truly a virtue. Working from top left to the bottom right keeps my artwork clean. I use a Mars Staedtler to erase the pencil prior to painting and a drafting brush to dust off the surface.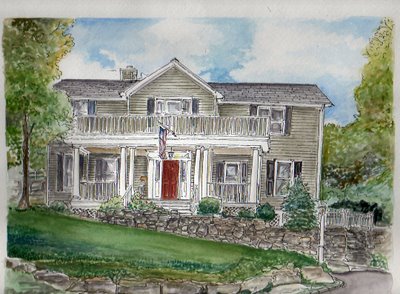 At a point that I feel I have captured the essence of the artwork, then I begin to prepare my color palette with the colors to be used. I try to narrow down the number of colors and stick to using that palette which brings a cohesive order to the final artwork. I use clean water in a clear glass container , good brushes and have a blotter or a paper towel to test the amount of paint that I load on my brush. Just like applying make-up, if it goes on too dark, you have to start over. I try to work light to dark in water color, but in oils my process is different.
I plan to post more about my process and if any of you have any questions that you would like to know, please feel free to leave me a comment. Creating illustrations and inspiring others to draw or paint is pure joy. Tell me if I have inspired you and let me know what you are creating!