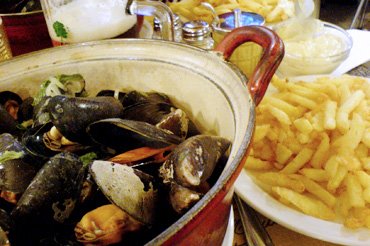 Happy to say that we have enjoyed the classic "moules frites" here in Brussels, Belguim. One cannot come to Brussels and not have this famous dish. There are many wonderful spots but a favorite is Chez Lyon located off the Grande Place.
Our hotel on the other hand is not classic, but fresh, fun, hip and free wi-fi. In such an old city, this Hotel is a fresh bloom. Hotel Bloom.
Hope everyone is enjoying the weekend! I promise to have lots of fresh ideas to post when I return with some new designs.