My fascination with tender things began at a young age.  Those of you who know me, know that I have a passion for paper, textiles and also for hand-me downs.  Eco-friendly craftiness inspires many to use what we have collectively and to create from nothing to make something beautiful.  As they say, birds of a feather flock together.  
Allow me to introduce you to one very inspiring woman who has a unique business.  Barbara from
Tender Threads
, a tender-hearted woman that speaks deeply to my inner crafty goddess.  
  I bet she whistles while she works.  Her sweet sewing table and chair make me smile.  She takes hand-me downs and makes them into heirloom memories.
Pure and simple sweetness.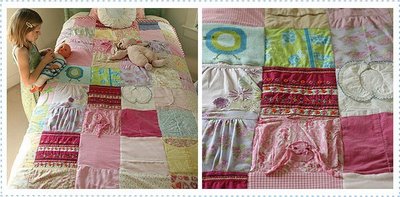 Her Quilts leave me tender-eyed. I have several my mother made for me, which I cherish and use. 
 I cried when I saw these simply stunning creations.
Her site and images will leave you tender-eyed, tears of joy for the hand-made!
 I love polka dot pants and buckets too.  
  Prepare to cry, a good cry. Cry me a bucket!