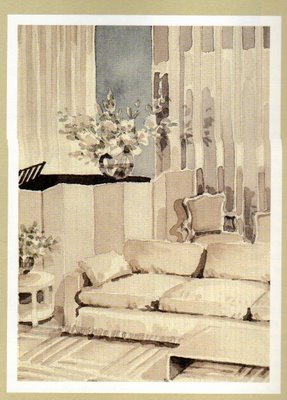 As promised, this week will be full of tips on bringing haute couture to your home.  The above illustration by Mark Hampton, is of Syrie Maugham's own sitting room in Chelsea from the late twenties.  A salon of white and off-white interiors has the ability to look timeless and equally modern.  Historically, white or white-washed interiors work well from simple cottages to luxurious palaces.  Adding a simple white piece to a room adds a point of view.  Take for example this sofa.  Picture yourself relaxing on this sofa reading the latest French Fashion magazine, imagining that you are going to be called for your beauty appointment or fitting, right in your very own home salon.  Every home needs a "salon de white sofa."  Please be sure to check out this site Haute-House and click on the fabric selections.  Clever swatches appear in the shape of little birds.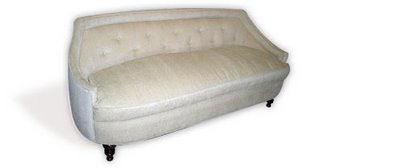 Last week while still on a mission of finding that sweet sofa that I had posted which I later found out that it was a seven grand, yes 7,000 dollars!  Well, as the saying goes, when the going gets tough, the tough get going- so I visited a local thrift store and was delighted to find a wonderful sofa.  I even did a drive by a local upholsterer who has covered numerous items for me and she said I must have paid at least $1,200 dollars.  I got the steal of the century.  This lovely love-seat was a mere $175 and is in excellent condition found at a local thrift shop named, Forever Elegant.   Please excuse the bad photo, I was in a rush and my camera was not cooperating.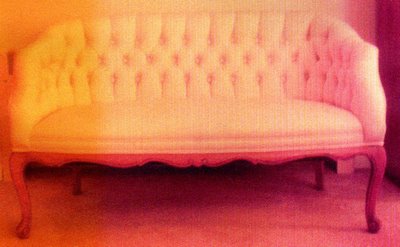 I brought it home and it is in our bedroom.  Mind you I do not have a salon but it does add a special touch of couture.  Note the tufted back along with the great french legs.  The best part is my husband loved it too.  Here is my quick sketch!