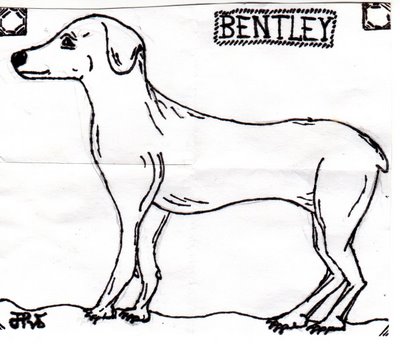 Drawing done by J.P.  (son of master)
Beautiful Mary-Laure over at
AUREA
in Paris tagged me with the exact same round of tag that I had done not so long ago.  In the spirit of sportsmanship, I agreed to play along, this time my dog "Bentley" will be my substitute tagger.  After all, he does love a good game of fetch or a "ball" and he has never made it to my blog.  Le petit-pauvre.  I thought Mary-Laure's Benjy would enjoy it too.  Bentley's birthday happens to be on Bastille day!  He will be Three.
Ready Bentley, go fetch!  
1.  What was I (Bentley) doing ten years ago?
Well only three short years ago, a very kind family – four out of five visited me not once, but several times at the Pet Store, where I was residing along with some other dogs, and cool cats.  The owners were kind, and gentle but I really was barking to get out and make a way for myself.  I was only 5 pounds when this family held me.  The store owner kept saying, "He is the perfect fit for your family" because I was quiet, kind and gentle.  The family kept saying things like, "Please Mommy, can we get him, he is so cute!"
2.  Five things on my to do list today.
Eat
Sleep
Go for a Walk
Bark at a squirrel, chipmunk or the UPS Delivery Person
provide unconditional love
3.  Snacks
Liver
Carrots
Chicken
Filet
Salmon
4.  Five things I would do if I were a Billionaire?
I would buy my family a farm/ apres ski house in the country, I love wide open spaces to run.
Certainly only natural to give a good bit to the ASPCA.   Save some for a rainy day.  
A King Size bed and some Frette linen for all three of us. The Master, the Misses, and I. 
5.  Places I have lived.
Born in Oklahoma
Pet shop
My home, right here with an upstairs bed in the kitchen and a downstairs bed too.
6.  Six Peeps that I want to know more about?
Benjy
Alvin and the Chipmunks
Exactly when is in my next meal?
Anyone dog-gone willing to play ball?
Someone just called my name for " food?"  I never miss a meal.
a bientot!
licks and paws,
Bentley