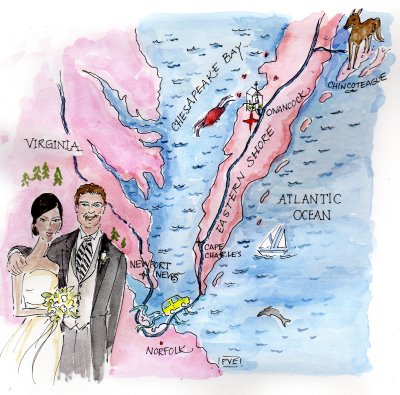 I just love weddings that require travel to destination spots, especially ones near a beach or a place that I have never been.  Witnessing a love union and escaping for a weekend away, are always good for reviving love.  The above illustration was done for a couple as a save the date card to advise guests where to stay and when the blessed event will take place.  
This week, my posts shall be dedicated to celebrations.  Yesterday, while I was at the florist picking up long stem roses for my evening cocktail party, the florist was in the midst of so many things, preparing so many gorgeous arrangements for various events.  She said we touch every celebration of life.  I love that about my work too, I do touch many areas in my illustrations, from newborn announcements, birthdays, weddings, parties and more.  
Take time to celebrate, be it a destination one or right in your very own back yard.  
June is a time for embracing and celebrating summer.