Step on up to my stairway to my mid-century modern haven.
We have the blueprints from the Architect. circa 1949.
Nearly twelve years ago, I found the "one page" deed in the driveway which we needed for the closing which may not have happened without that important document.
Sweet Karma.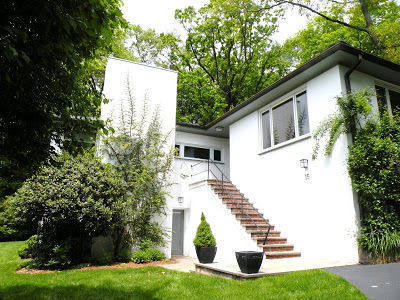 Welcome to my stairway to heaven.  The rose bush to the right is tethered on a suspension wire and in a few weeks there will be ravishing roses in full bloom.  Pale and velvety roses.
But these planters need tending to and so many of you seem to love to give advice.  Free advice. One planter has an evergreen, the other is empty.  What about boxwoods or grasses?   Holly bush to the left always has a nest or two in the spring, Paracantha climbs up and in the fall bears orange bittersweet berries.  Any gardening thoughts or advice is greatly appreciated.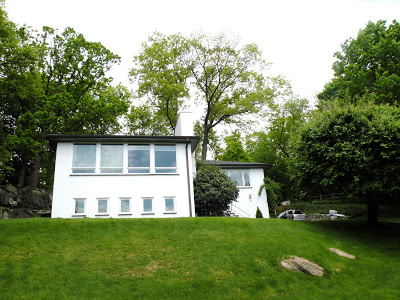 Located on a hillside, the view is heavenly.  Upstairs is my kitchen, living, bedrooms and back porch and patio. Downstairs is the hot bed working inferno, my work space, tv, computer and kid heaven.  Eyes on my work and an earshot from devilish angels. Photos taken by my
writer buddy
.  She has a brand new camera.  It's good to have friends with good equipment.
Thanks for the photos and any advice.  As my mother always said, "If you do not have anything  nice to say, just don't say it."  Sometimes it is still a hard rule to follow and I know I am not alone.  Go ahead and leave me something, like a comment or a hell-0!