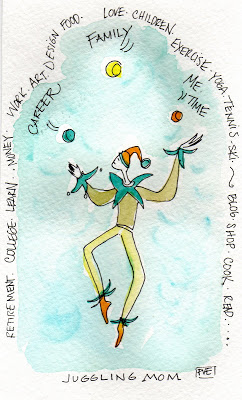 Juggling all the daily demands of a career and family life are not for the weak nor the timid. Working to love my work, elating clients, polishing a sparkling home and "my people"- all satisfied requires discipline and organization.  
Then there's a morning of a waking up to a sick child or the dog and appointments to said Doctor require immediate attention, or the plumber is running late for the backed up sink, causing the oh so well planned day into a tail-spin of utter chaos – boiling it all down to what truly matters.  
Throw in the additional task of keeping the flame of a blog burning brightly with daily posts, tags, and creating inspiring and interesting things so readers will provide you with comments of love and applause.  Need I mention the juggling of car-pools, to and from activities, grocery shopping, preparing healthy meals all while trying to locate the missing sock or doll's shoe the size of a dust-mite, it is a sure fire way to put me on the edge.  I mean, don't people know that I have a business to run as well as my blog fans to provide a daily dose to!  
How do you juggle, do you do it all, or have help?  Have you patented some sort of contraption to juggle it all or c'mon, tell me your secret?  I know that there are many books with the "I don't know how she does it"- sort of mantra.  I want to keep it real, so share and give it up in your own words.  Do you make time for yourself?  Time to get your urban zen on with yoga, or make it to the gym for a power work-out, get a hair cut more than once every five years, take your own self to all the various places and then plan the next vacation along with your child's college and retirement.  I think you get where I am headed. Leave a comment or your secret to juggling it all.