Interiors of the heart -Enter Artist David Lloyd
Quiet and Pale – by David Lloyd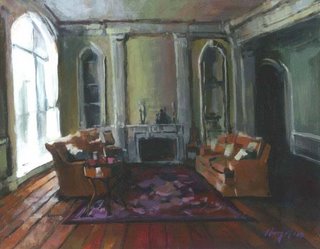 Interiors of the heart are captured in the paintings of David Lloyd. These works of art drew me into the space. There is an intimate quality. Just like a child excited to stay at a beach house, running to claim the best room, that is the feeling that overwhelms me when I view these works of art. I cannot decide which room I want to run to first. The soul of a home they say is in that of the inhabitants, but these paintings are the soul of the room, the sum of that home. Like children make a family whole. The above painting is titled "Quiet and Pale."  I would love to be in that space with a good book. The light streaming in, the high ceilings and those comfy sofas look inviting.
Interiors have inspired many artists, architects and designers. Documenting the interior space of a home with a painting is a unique way of handing down from generation to generation a sort of "been there" feel. Clearly, each of us have a special place that we went to as a child, perhaps that space no longer exists, yet the memory of it is painted in your heart. My grandmother's living room was a beautiful "Robin's Egg Blue" and there was a mural in the dining room above the side-board. Fond memories come wafting back to me, of opening the middle drawer, there was a shoe-box lid with crayons, manilla paper and always a supply of chocolate bars. The sense of smell, color, taste and the softness of her voice bring me to that special place that no longer exists.
This painting above is titled- "Shakespeare and Company" – David painted this interior of a bookstore as seen through the window from the street. Inside sits a lone patron. It was the mood of this painting that inspired David to paint interiors possessing a similar quietude.
He believes that this was finished in 2003.  This painting makes me want to go inside and find some rare book, the kind that is no longer published.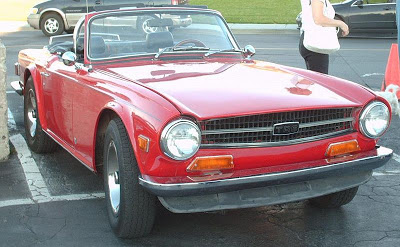 Zipping along, David's paintings range from 30 minute studies to 30 hour multi-layered affairs. Of course size does determine the time and some he cannot even begin to calculate the miles. Much of the time is spent sitting and staring.  He rarely needs inspiration as he just works through technical exercises and then finds his way. 
He tells me not to wait for inspiration to come, go and find it. What a nice motto.
Do you have an Interior of your heart? Perhaps David will create the sum of its parts for you.
Many of you have an obsession with a chair, a sofa, a chest, or some object that holds your heart. Objects find room in our life and lead us along the journey. They provide a road map to a place and time. Why not have it painted as you would a portrait or a landscape.
Thank-you David for answering my questions, and for allowing me to write this post as well as post the interior paintings from your heart.