Have a fine birthday, Dad!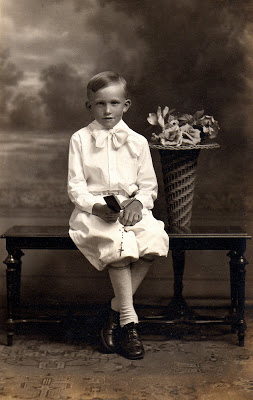 This photo is of my father, on his First Communion Day.  Today, my dear Dad is celebrating a birthday, 81 years young.  In 1945 my father began his business "
Paul's Fruit Market
" – which still lives on.  Many years, my father was up early to go to the market to shop for the freshest fruits and vegetables.  My mother and father worked hard to provide for our family.  They had taught each of us to build a life simply by being kind,  honest, and hard-working.  Every day my Dad shows me that it is important to show compassion and fairness to all.  More importantly, it has been his display of faith to lead a fine life.  Dad, I will honor you and Mom -everyday!
 He always tells everyone-"Christmas should be more than once a year." 
 Find room in your heart for joy everyday!
Have a fine birthday, Dad!