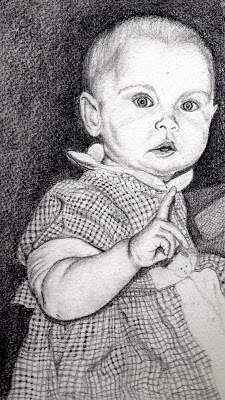 Babies and checks fascinate me.  I love babies soft skin, the rolls, and the dimples.  Tiny fingers curled, bright eyes, small button nose and lips that will soon give meaning as they say letters to form words, D,Dada.  Why do they all seem to say Dada first? 
Checks also remind me of babies.  This check pinafore was a lovely pale grey check with a white bedford cord collar, cuffs and front, a hand-me-down from a wonderful friend.  On the front was an embroidered bear face.  My baby will be turning nine and when I see a baby, I do a "baby check" and my husband says, keep moving.  ( I illustrated this of my baby girl and her father, my husband. ) He loved the baby years and was an expert swaddler.  He would wrap them so tightly and then proclaim, "See, they like it."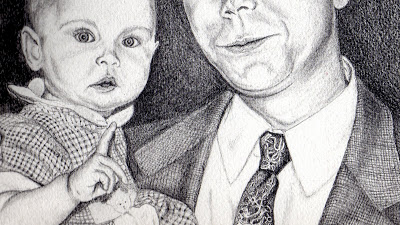 Now he sees a baby and the next day, he will say, "that was a cute baby" and I say, "keep moving!"
Is it just me, or do you do the baby check thing too?