Fond memories of travels with my Mother and my Aunt Mary to the Carolinas and visits to the local shops conjure up visions of seeing sea shells made into sculptures, tiny people, wee little animals.  I would often repeatedly go back to the shop to visualize each shell and how easy it would be for me to make them.  I say that about many things.  My Mother and Aunt thought it would be easy to make them too and we dreamed of counting all our money, made from our shell creations.   
One is never too old  to enjoy the thrill of finding a perfect shell strolling along the beach.  
A collection of shells framed and hung of Tahitian shells.  Placed or hung in a powder room they would take one away to the beach.  Again, I find myself saying, I can so easily make these.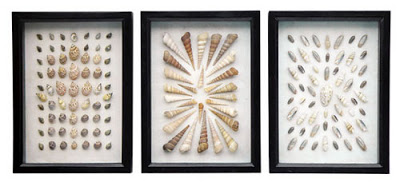 Shells have often inspired many designers and artists as they light the way in these simple wellfleet sconces from 
Oly Studio
.  Oh, I can so easily make these too, for the beach house that I don't have.  Yet.  It would be entirely encrusted in shells, which I can so easily make.