My daughter recently gave a "scientific explanation" on How monkey's communicate at her school.  Each student became an "expert" in their own topic and it was so much fun for me to see how each child worked to gather information and present it in a clear and concise presentation.   Did you know that monkey's swing when they are happy and that they can sing and can be heard up to three miles away.  All of the parents are still in awe of how the teacher was able to pull this off, as each child had their own unique area of study.  Our little experts were donning white lab coats for a day as a "Doctor!"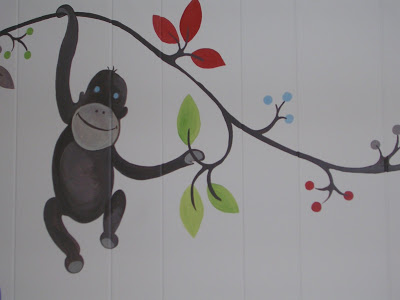 Monkey see, monkey do!  I painted this monkey for a  for a nursery and this monkey is having a ball swinging from limb to limb.  If this monkey were afraid, the teeth would be showing to show signs of fear.  He is smiling and "monkeying around!"  That is what monkeys like to do.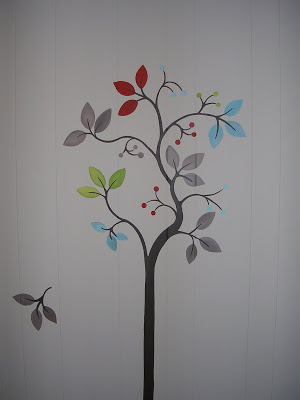 As an artist, one of the things that I love are to paint things with a twist.  This tree has the colors of all the Four Seasons. 
 The bedding was from
dwell studio
 (painted before they had dwell designs in Target!) and I was inspired to mimic the leaves in the pattern and introduce several other colors to add to the palette to create a simple tree and some playful leaves falling about the room.
A bit of blue sky is always needed, even on the worst of days.  Flip the switch and Mr. Golden Sun lights up the room.