As a child, like most children, memories of playing at friends homes was
like this
;
1.   I was always aware of what was
different.
2.   I would always tell my Mom what we
needed
if we did not have it.  ie; the Christmas tree with  all white birds and gold ribbons, white lights.  (We had an array of ornaments)
3.   Can you
make me
what Mrs. _____ made for dinner?
4.   Can you
buy me
this_*______.
5.   Can we have
wallpaper?
One afternoon at my friends home we ate "Matzoh."  I always like to try different things.  Her Mom made us
Matzoh Ball Soup
and when I got home, I told my Mom that she needed to learn how to make that.  She did.   I was fascinated to learn about other religions, cultures and their traditions.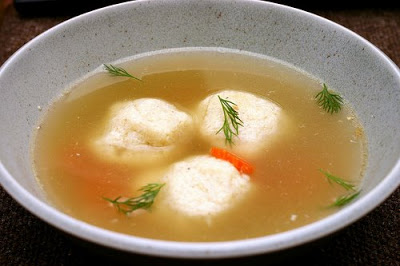 It's that time.  Passover.  So, save me some Matzoh and Matzoh Ball Soup for this catholic  gal.
That's  my matzoh memory. 
What are some of your earliest memories from childhood?