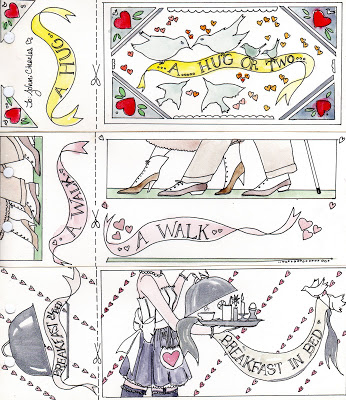 From the start, you know you like a person, the sort that can draw you out, the one that can always find something good in you.  I was lucky enough to meet that sort and to marry him too.
He always inspires me with his smile, he has a great outlook.  The sun will always rise in his book too.  Over the years and throughout, we have had some wonderful times, celebrations and some beautiful memories made.  One year, I gave my darling these "love coupons" which I illustrated and tied with a ribbon, he saved them in a box with many other cards.  I love to draw for those I love and admire.
Today, I wish my loving husband and inspiring Dad (to 3 great children) a truly Happy Birthday.  May your day be merry and may you always continue to be the great guy, father and friend to me and many fortunate enough to have you in their world.  I take this moment to tell you that you are an inspiring person to me, your energy, your love for life and all that you do should be admired.  Somehow love coupons seem not merely enough, but you know they will always be redeemable here.