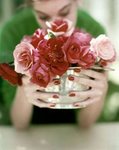 I never imagined the incredibly creative people that would come into my world via my blog.
My mission was to inspire and connect, all the while I create an artful life. My mission is far from accomplished, yet I feel such gratitude to those of you who stop by to pay a visit, to tell me how much you love my work or how I have inspired you.  One such individual connected with me and I felt compelled to post about this amusing individual.  She was thinking about her own blog.  She just joined the blogosphere.
Everyone needs one musette.  Please welcome musette and I will post more on her in one of my next posts.