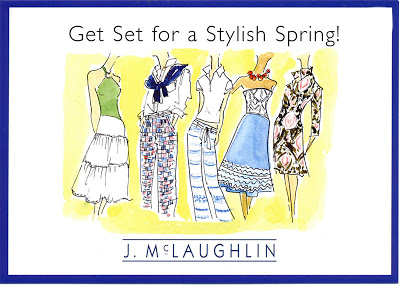 An illustration I did, used for a Spring Mailer
Get set, get ready!  Are you prepared for spring?  Are you anticipating sporting a new item that puts spring in your step?  Growing up one of seven, new outfits were "hand me downs" or perhaps linked to a special occasion or holiday.   I remember a Spring Plaid of yellow and green that my mother made for me, a cape with chic slits that I could put into my sheath dress and I loved my flat black patent leather shoes with white square buckles.  Boy was I ready for spring and a basket full of "peeps!"  Now, go get set for a stylish spring. 
What will you be wearing this Spring?