In order to protect the innocent, this desk was sent with a "do not show" – but later she replied,
"Was my desk too late?" Perhaps I will leave you guessing on this desk. I tend to work very much the same way, piles, piles that I know where everything is. I have baskets and shelves and drawers and bins, that I know where everything is too. This desk happens to be located down in the Lone Star State. Can any of you imagine who this desk might belong to? Give it an ole college try, s'il vous plait?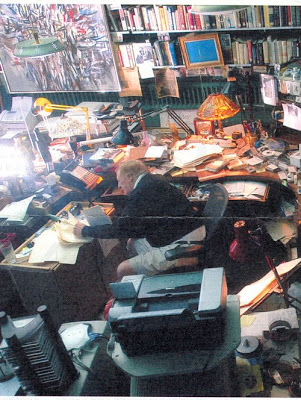 I think Mr. Buckley knows exactly where everything is too. I can only imagine that every little thing salvaged and saved from that office must be worth lots of money. This photo was sent to me by a lady with a great eye for design, as well as smarts. I like a man who is confident enough to work in bermuda shorts.
The weekend has arrived and I am wrapping up this series of desk vignette posts. What I have gleamed from these posts is that we all are unique, and each and every one of us has our own voice, our own style and certainly our own way or working. Some of us envision our own studio while we work from perhaps a temporary spot. However, each of us arrive to work, pajamas, or fully dressed, we all know what makes us tick. Piles are necessary for some while others strive to have an uncluttered desk. Perfection is often found in imperfection. I was unable to upload one of the best shots, one sent to me from the home office bed. I shall try again later.