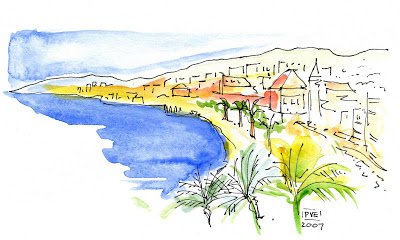 Thank-you to each of you, who make my day sunny and bring me to a beautiful spot!  I am inspired by you and the fact that you stop by and visit me to see my latest posted illustration or short story.  It is like I have my very own built in trainer to crack the whip and stay motivated to post, to draw, to be blogger fit, ready for the beach in that brand new virtual bikini.  Virtual, yes.
My illustrations have always provided me with my very own travel agent, florist, fashion designer, right at my fingertips, I can be transported in a matter of minutes. 
Blogs do that too, they take me away to another world, of inspiration and sunny, happy places! A special thanks of gratitude is given to fellow bloggers for "you make my day" by telling me that I make your day! 
Thank-you to;
All the Best
 for selecting me and encouraging me to join the blogosphere.  Ronda, you are a gracious host and mentor in the blogosphere.  I visit you every day and smile when I see the mast-head that I illustrated, long before I had even thought I was blog worthy. 
 Claudia, from 
The Crafty Weasel
also made my day by awarding me the "you make my day" award.  I am glad that you visit for inspiration and that I inspire you.  Truly, it is good Karma.  What goes around, comes around.
I now need to dedicate a post to those of you that make my day.  Growing up in a large family, I would always ask my Mom, which one of us do you love the most?  My mom never gave me an answer but she always made my day be telling me a simple, "each of you make my day!" Hence, you see my dilemma but I promise, I will post a list of my absolute favorites even though each of you truly make my day!