Today is a special day, my twin boys are fifteen years young.  I remember how anxious I was for them to arrive and had no idea how I would fall madly in love with them from the moment I saw them.   How could I possibly have more room in my heart for another love, like a candle the flames just grew twice as bright.    I have been doubly blessed with two boys, twin brothers. Fraternal twins, like the sun and the moon, opposite but very dependent on  
 one another.                                   
A unique and special bond which they have shared from the start.   They share a room and love of sports, attend the same school and friends too.  To this day, they                                                                                                  have a tight twin -ship. 
Happy Birthday boys, you will always hold a special spot near and dear to my heart!   
The  oil painting is titled "Two Boys" by Frank W. Benson dated 1926 from The Metropolitan Museum of Art and reminds me of you two boys.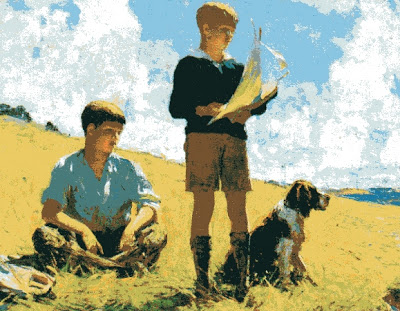 I am proud of you both and wish you smooth sailing throughout the year!  
xoxo- Mom!