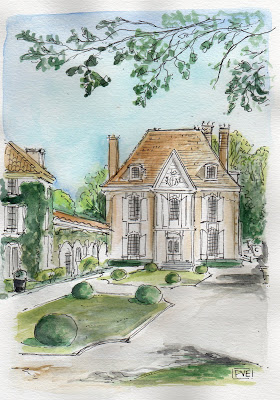 Just the word Chateau inspires me, be it a Chateau or Chateaubriand or Chateauneuf-du- Pape!  I am not alone when it comes to being inspired by all things french as fellow blogger Joni from
Cote de Texas
 has a passion and "joi de vivre" for french decor.
I wonder what she would design given this "Chateau!" I immediately think of Joni when I think of anything French.  She has a special touch.  A french touch down in Texas.  The french also love Texas, cowboy boots, classic westerns, and a smokin bbq.
I was inspired to illustrate this "Chateau de Bachen"  – which belongs to Chef
Michel Guerard
who has 3 stars for his magnificent cuisine.   Visit the site for a taste of France and listen for a taste of Spring.
Trust me you will be as inspired as I and you  can also visit
Cote de Texas
and feel tres francais!
Tell me, do you have a penchant for French?