There's no place like Barneche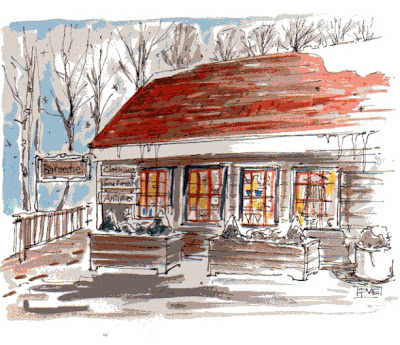 "No place like Barneche"
Through the woods and over the rainbow, a magical spot exits. "Barneche" is literally right off the yellow brick road – a small shop is home to Stephanie Barnes. Her native Kansas hospitality provides warmth and inspiration even on the coldest day. "May I offer you a cup of tea and some fresh baked goodies" – she cheerfully offers, while your eyes feast on a gentler, kinder time. Antiques, hand-made reversible jackets, dolls with soul, glassware, objects found and restored all with tender loving care displayed in wooden items made to set a soulful stage.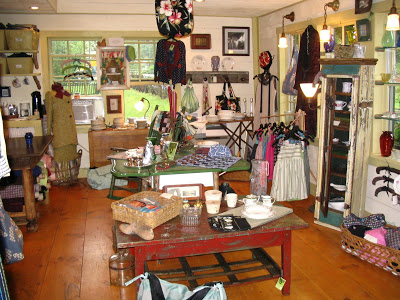 step inside Barneche
Ms.Barnes did not need to ask the Oz for a brain, courage or a heart as she has what all artists covet and that is finding one's own strength. She and her husband David Seche are the creative spark beind this shop as well as running a business in vintage electrical lighting. The name Barnes and Seche wired to create "Barneche Design" and the light is a sparkling bright spot in the town of Chichester, NY in the Catskills.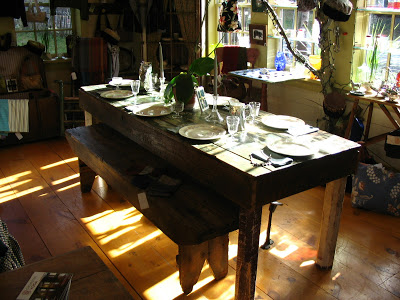 Harvest Table, dressed for a simple supper
There is an arranged order to the tiny, tidy shop, colorful spools of thread, fabrics folded as if they were origami. Vintage cigar boxes stacked like books. A certain "feng shui" of finding health and happiness at home and work is in the air. Stop by and you will appreciate all the goodness and the natural setting is one of which dreams are made of. One cannot help but skip out of the shop with a smile and something to brag about to Auntie. I found satisfaction in knowing that Ms.Barnes had found her place creating a simply artful life.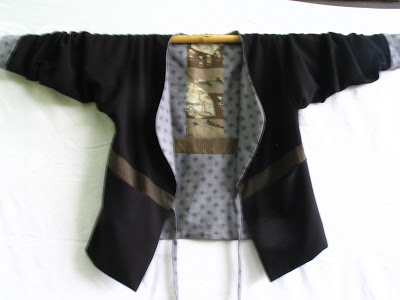 A lovely jacket for you!